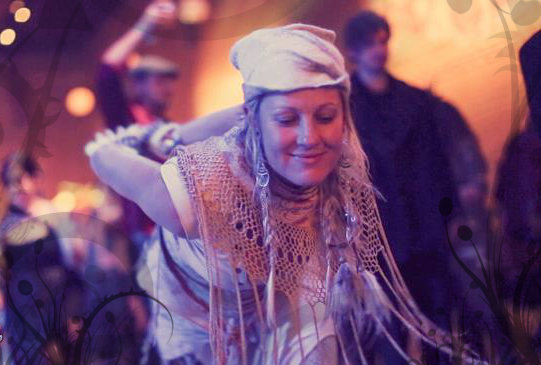 A long time ago, when not much mattered, but the learning of how to take baby steps into this world, I looked out with wide open eyes. Ruled by sun, creativity became my language, my sanctuary and my savior. At the age of about six, my two years older and only sister Ellen showed me how to use our mother's sewing machine.
As my first sewing project we were trying to sew little elf booties for ourselves, since my dad had the idea of shooting a video for our mother's birthday in which we were to be little elves that came out of a hole in the kitchen wall to prepare breakfast for our parents while they were still asleep. In preparation for our shoot we cut two pieces of fabric shaped like a pointy elf shoe and sewed them together. Little did we know that our foot would not fit into a two dimensional (flat) elf booty. Lesson number one: We are multi dimensional beings. I scratched my little six year old head as I searched for solutions... and so the journey of creativity and deeper understandings of clothing craft continued...
I remember being asked by people: So, what are you going to be one day? I never liked that question. I felt pressured to fit into something that already existed. It takes courage to realize that all we get to be is true to ourselves. Whatever that might look like. We always loved to dress ourselves in the most ridiculous costumes. Anything out of the ordinary.
As a teen I developed my own sense of style, but it became more obvious as the punk phase began. I was never a real die hard punk that wanted the world to fuck off, yet I personally define punk as the breaking down of unnecessary controls. It was a phase of liberation. Liberation from what is the norm and into my own creative space. If the soul is strong we will grow through the more destructive aspects of it all. Looking back at it now, I would say I was a soft-core-punk. The spikes on the outside were only there to protect the soft core inside. It was all a part of my awakening.
Yet I continued to feel un-empowered in most clothing that I could find in stores. I questioned myself for not fitting into them as I thought I should. They just did not make me feel good. Scissors and thread became my friends. I liked sewing machines, yet due to a unique off grid lifestyle choice I didn't have electricity for five years starting from the age of 20. Needle and thread brought me back to the basics. I made pants, sweaters, shoes. Even hand sewn full costumes. Challenging myself to a nice, clean human stitch.
It was not until I moved from Germany to Santa Cruz that it was truly time to get on the ball and get myself some nice sewing machines. Ideas compiled over the years, yet the manifestation of my creativity has its own timing. Now, that I have finally made space for ideas to come through I am beginning to overflow and can share some of these creations. A journey it has been. Little did I know....I just had to follow the thread.
And so I became a story tailor. Tailoring stories to dress the divine ~*~